Italian meringue buttercream might have reminded you of Swiss meringue buttercream. Though both are similar, the cooking duration of sugar is different for both recipes.
light, satiny, not excessively sweet and it pipes wonderfully!! It unnecessarily scares too many home bread cooks so I'm here to help and give that smidgen of support and expertise to assist you with making this astonishing icing!
For Italian meringue, you have to cook the sugar up to 240°F. There are other forms as well.
Wait! So you can't differentiate between Italian, German, French, and Swiss buttercream. Forget the others; let me give you a go-to interpretation of this classic Italian meringue buttercream.
This thick and smooth icing contains egg whites, sugar syrup, and softened butter. It is the least sweet, most stable, and my favorite of all the other types.
I live in the warm environment of Florida, so this Italian meringue goes well with me.
Quick Tips
Before we dive into the recipe, here are some quick tips for you. This part of the write-up is icing on the cake. Icing tips for icing recipe, Wink-Wink!
Always maintain the temperature of the ingredients to room temperature before starting with the recipe. A little warm temperature is even better. Your batter will break in either case.
Always weigh your ingredients. Scale measurements are preferred, as measuring with the cup isn't that accurate. Precise measurement ensures the success of your recipe.
Keep all the ingredients arranged. Prior to starting the recipe, place measured ingredients at their proper place. It also reduces the probability of missing out on any component.
Here are some special tips for the ingredients that you will be using in this recipe. How your recipe turns out depends on the quality of the components.
Be careful and keep the following points in mind while buying/selecting the constituents.
Never use pasteurized egg whites. I repeat never! If you opt for boxed eggs whites, your meringue will never become stiff. It is pertinent to mention here that stiffness is what leads to a stable frosting.
Heat the sugar to the desired temperature (240°F).
Before using the sugar syrup, make sure the water of the mixture has evaporated. If it's not, the syrup won't be stable enough to be used for frosting.
Don't use melted butter. You might confuse melted butter with softened butter, and this confusion will ruin your recipe. Make sure you are using softened butter. The quality of butter immensely affects the quality of your buttercream.
It isn't necessary to use vanilla for flavoring. Yes, you might have thought of it as a must-have ingredient, but it isn't. You can also choose to flavor it with emulsions or freeze-dried fruits.
Here is a pro-tip. I always use salted butter. It helps me adjust the amount of salt in my recipe. For Italian meringue, just a little salt can work wonders.
So I guess salted butter is an appropriate option. Though not necessary, you can try this.
Hands-On the Recipe of Italian Meringue Buttercream
The cooking process is much fun if you do it the right way. Here is a breakdown of the peculiarities, ingredients, and instructions of the recipe.
Peculiarities of the recipe,
Preparation Time: 15 minutes
Cooking Time: 10 minutes
Cooling Duration: 15 minutes
Total Time: 40 minutes
Serving: 8 cups
Total Calories: 849 calories
Ingredients required for the recipe
Granulated sugar (16 oz/454 grams)
Water (8 oz/227 grams)
Salt (1/4 teaspoon)
Egg Whites (8 large/264 grams)
Softened Unsalted Butter (24 oz/680 grams)
Vanilla Extract (2 teaspoons)
Equipment required for the recipe
Stand mixer with attached whisk
Candy thermometer
Instructions for the recipe
Stick to the following instructions for the recipe,
Mix water with sugar. Cover it and place it on the stovetop. Heat on medium-high flame and bring it to boil.
Keep it covered with a lid and continue boiling for three to four minutes. Make sure all the solid granules dissolve. Leftover granules can crystallize sugar and eventually spoil the recipe.
Once the sugar dissolves, remove the lid. Keep heating the syrup on a medium-high flame until the temperature reaches 240°F. You can check the temperature by inserting a thermometer.
Whip the egg whites. Start lashing the egg whites before the sugar reaches the desired temperature. Also, add salt to the egg whites. As an estimate, you can start whipping eggs when the temperature of the sugar reaches 235°F, so you are done with the eggs the moment sugar is ready.
Make sure you have mixed the egg whites well. Keep the speed of the mixer at full while whipping egg whites.
When the sugar syrup is ready, change the speed of the mixer to low. Slowly pour the hot syrup into the mixture of egg whites and salt. Pour carefully, as it would splatter in either case.
After pouring the whole sugar syrup, increase the speed of the mixer to high. Whip the stiff peaks.
Now cool the meringue up to room temperature. Here you can opt for two methods. You can use ice cubes while mixing it, or you can refrigerate it for almost 15 minutes once it's stiff.
Wait till it completely cools down. Add butter, salt, and vanilla. Whip it until it becomes fluffy. The indicator of its readiness is that it becomes light and no more tastes like butter.
You can add any food color to make it suitable for your cake.
Woah! You just made a classic Italian meringue buttercream.
Frequently Asked Questions (FAQs)
Here are some misconceptions that you might have encountered. Don't worry! I have brought some satisfactory answers to your queries.
Can you color Italian meringue buttercream?
Definitely, yes! You can color it simply by adding a few drops of your desired food color. You have to add food color in the final steps of mixing.
If you want frostings of different colors, you can divide the mixture and add different food colors.
How long does Italian buttercream last?
You can keep Italian buttercream at room temperature for two to three days. But if you don't have to use it for the next 24 hours, it is better to refrigerate it.
You can freeze it for up to six months. To use frozen buttercream, defrost it. As it cools down to room temperature, whip it again until it restores its consistency.
How to make Italian Buttercream
Published: October 11, 2016, · Modified: Aug 28, 2019, by John Kanell
This post may contain affiliate links. Please read our disclosure policy.
Of all the buttercreams in the world, Italian meringue buttercream might just be my favorite! It's light, silky, not too sweet and it pipes beautifully!! It needlessly intimidates way too many home bakers so I'm here to help and provide that little bit of encouragement and know-how to help you make this amazing frosting!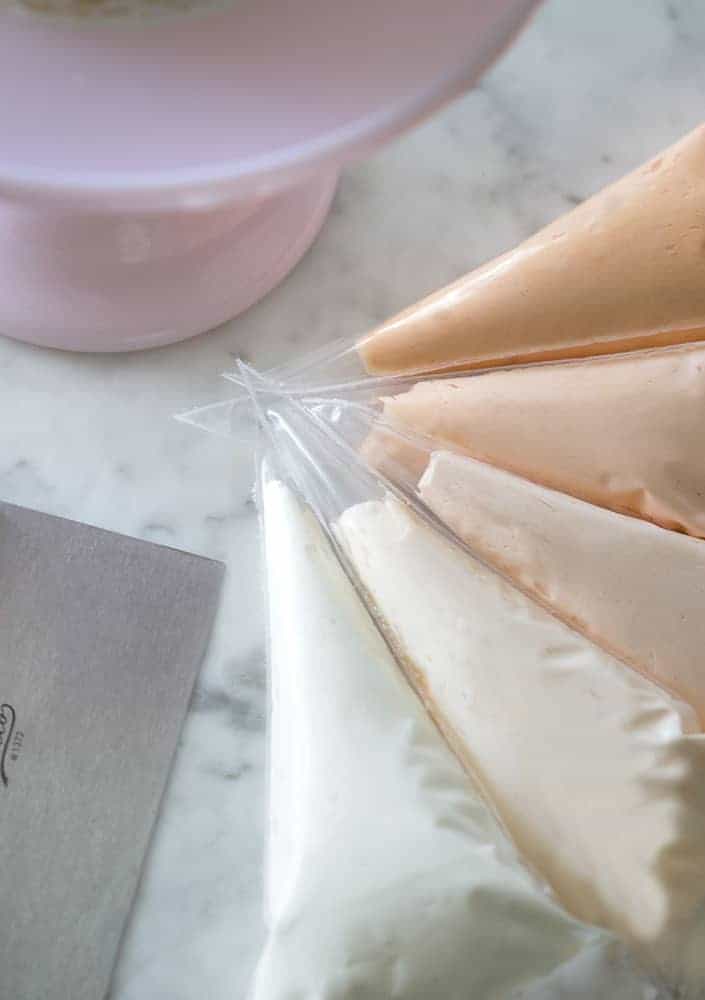 125098SHARES
Italian meringue buttercream is a revelation! Silky, perfectly sweet, super-versatile, and it pipes like a DREAM! I've had so many questions about Italian buttercream that I made a step-by-step video to show you all my tips and tricks! Scroll down to check it out. Did you know Italian meringue (same recipe without the butter) is incredible on tarts and baked Alaska! I know it's a bit finicky BUT this buttercream adds a silky, not too sweet, touch to your cakes; it also pipes beautifully!
PRO TIPS FOR MAKING ITALIAN BUTTERCREAM
It's important to use room temperature egg whites and butter.
Clean the bowl of your mixer really well, fat is the enemy of meringue.
Monitor the temperature of your sugar syrup closely, you don't want it to get too hot.
Add your pieces of room temperature butter in slowly.
You'll need to give the buttercream a quick whip to bring it back to life if it's not getting used immediately as it will lose consistency quickly.
Don't panic when you add the butter to the meringue and it turns to soup, just keep adding the butter and it will work out.
Want some tips on how to use this buttercream when decorating a cake? Check out my How to Decorate a Cake post, it has lots of helpful tips and a full how-to video.
HOW YOUR MERINGUE SHOULD LOOK BEFORE ADDING BUTTER
After adding in the 240F sugar syrup your meringue will look very silky, white and it will feel marshmallowy, and not warm when you touch it. As soon as you add the butter in the consistency will change and it will deflate a bit. Don't worry, that's fine! Just keep adding all of the butter in and whip. If it's still soupy you can pop it in the fridge or freeze to cool down a bit maybe 10 minutes, then keep whipping and it should be fine!
I love flavoring my buttercreams with a high-quality vanilla extract, but there are so many more flavors to choose from. Orange blossom water, rose water, fruit reductions (make sure they're strained and cooled before adding), and of course chocolate (melted and cooled).
MY OTHER RECIPES
German Chocolate Cake♪Play Video
My brown butter orchid cake is decorated completely with Italian meringue buttercream. You might not be able to taste how good it is but I hope you can see the smoothness and detail possible with this frosting.
COMMON PROBLEMS:
If your buttercream is "soupy," just pop it into the fridge for a couple of minutes, then beat it. It should thicken up. I find consistency problems arise mostly from the meringue being too warm when the butter is added. Chilling it will help improve consistency.
If you're adding flavorings (i.e. chocolate, fruit, etc). to your Italian buttercream, I suggest doing this as the very last step.
CAN YOU MAKE ITALIAN BUTTERCREAM WITHOUT A CANDY THERMOMETER?
While it's preferable to use a thermometer when making Italian meringue you can do it without. The sugar needs to reach the softball stage 235-240F before it gets drizzled in. You can use a glass of cold water and an attentive eye to make to this. 
When the sugar is approaching the softball stage you'll notice the bubbles will start getting bigger and bubbling more slowly. Use a spoon to drop some of the how sugar into the glass of cold water. 
SOFT BALL TEST
If the sugar dissolves it's not hot enough.
Sugar forms a soft ball that feels like sap in your fingers it's ready!
If the sugar forms a hard ball in the water it got too hot.
FREQUENTLY ASKED QUESTIONS
WHAT IS CREAM OF TARTAR FOR?
A cream of tartar is added to help stiffen the egg whites. It's acid so if you can't get your hands on it sub in an equal amount of white vinegar or lemon juice. I've made it without and the recipe turned out fine by the way.
WHAT ARE THE THREE TYPES OF BUTTERCREAM?
The three most common types of buttercream are Italian meringue buttercream, Swiss meringue buttercream, and American buttercream. French buttercream, which uses egg yolks for a custard-like frosting, and German buttercream are also delicious options I would urge you to try out.
WHAT IS THE DIFFERENCE BETWEEN AMERICAN BUTTERCREAM AND ITALIAN BUTTERCREAM?
Italian buttercream is meringue-based and very light, creamy, and less sweet than American buttercream. American buttercream is sweeter but has the advantage of being quick, easy to make, and sturdy.
HOW DO YOU STORE ITALIAN BUTTERCREAM?
If you're not using your buttercream IMMEDIATELY — and it will be sitting for a few minutes — then just keep in mind that you will have to give it a short whip to "bring it back to life" as it loses its consistency quickly.
If you want to make the buttercream ahead of time, it can be refrigerated for a few days. Once you're ready to use it, allow it to come to room temperature and give it a short "whip." For those people that are used to regular buttercream: Italian buttercream is LESS SWEET and more BUTTERY!
You can always add MORE SUGAR SYRUP to your meringue to sweeten it a bit further.
HOW DO YOU COLOR ITALIAN BUTTERCREAM?
If you just add food coloring to meringue-based buttercream the color will not show. A little trick I picked up is taking a tablespoon of the buttercream and microwaving it in a little bowl with a drop or two of food coloring for 8 seconds.
The color will come alive. Now you can mix this colored buttercream into larger batches and you'll see much more vibrance.
I usually use gel food colorings to color my buttercreams; they are more concentrated than the watery ones you get at the supermarket.
CAN YOU MAKE THIS WITH AN ELECTRIC HAND MIXER?
Indeed yet it will consume most of the day and your arm will get VERY drained. On the off chance that you're going to this course, I suggest pressing the bowl of meringue in ice after the hot syrup is added so it chills off quicker.
Can Italian meringue buttercream be left out?
Yes, it can be left at room temperature but for a maximum of two to three days.
Can you overbeat Italian meringue buttercream?
Usually, it is not appropriate. It may result in the collapse of the egg whites. You can avoid this situation by adjusting the speed of the mixer.
Bottom Line
Italian meringue buttercream is a classic recipe. You must try this; it is the perfect frosting for your cakes. Also, you can mold it according to your taste by adding your desired flavor to it.
I hope you liked the recipe. Happy Cooking!